In these beautiful images, photographer Emma Pilkington has teamed up with one of our favourite ethical bridal fashion designers, Kate Beaumont, to present a modern day take on an old wedding day tradition.
Most brides planning a wedding will be familiar with the traditional English rhyme, 'Something old, something new, something borrowed, something blue'. The rhyme dates back to the Victorian era and describes the items a bride can wear, or carry with her on her wedding day, to symbolise the occasion.
Something Blue for Modern Brides
The old, new, borrowed and blue elements can be interpreted in however way the bride wishes. There are no rules involved – the rhyme simply offers a memorable way of incorporating some personal, meaningful and fun elements in to your wedding day choice of attire and accessories.
These lovely images provide an idea of how this sweet old wedding tradition can be honoured by modern brides in a really stylish and elegant way. From soft velvet shoes in pale baby blue, to blue silk hair accessories and jewellery, to elegant blue wedding stationery with white ink calligraphy or pretty blue flowers delicately embroidered in to your wedding veil.
The concept of the shoot was Something Borrowed, Something Blue, but making this more accessible for fashion forward brides – with blue hair bows and velvet blue shoes. We wanted the shoot to inspire brides who don't always like to play it traditionally. Emma Pilkington
We kept the makeup fresh and dewy to show brides that they can still feel like their natural self on their wedding day. Your wedding is all about you and we wanted to embrace this sentiment. Emma Pilkington
Kate Beaumont Ethical Wedding Dresses, Made in Yorkshire
Kate is renowned for creating the most romantic and feminine, vintage inspired wedding dresses for modern brides.
Her gowns are understatedly beautiful, each of them handcrafted on a bespoke basis from her Yorkshire based studio.
Everything is truly made with love from a designer passionate about creating gowns that make women look and more importantly feel their most beautiful.
I tend to create a new small collection of gowns every other year, but strive to design pieces that sit effortlessly alongside what has come before, so that the new styles can be mixed in with the older ones on the rails seamlessly. This method of working means there is no need to continually retire existing designs in order to re-launch an updated version – if a design still works, sells, and we can source the fabric, we'll keep it on the rails. We are the antithesis of fast fashion. Kate Beaumont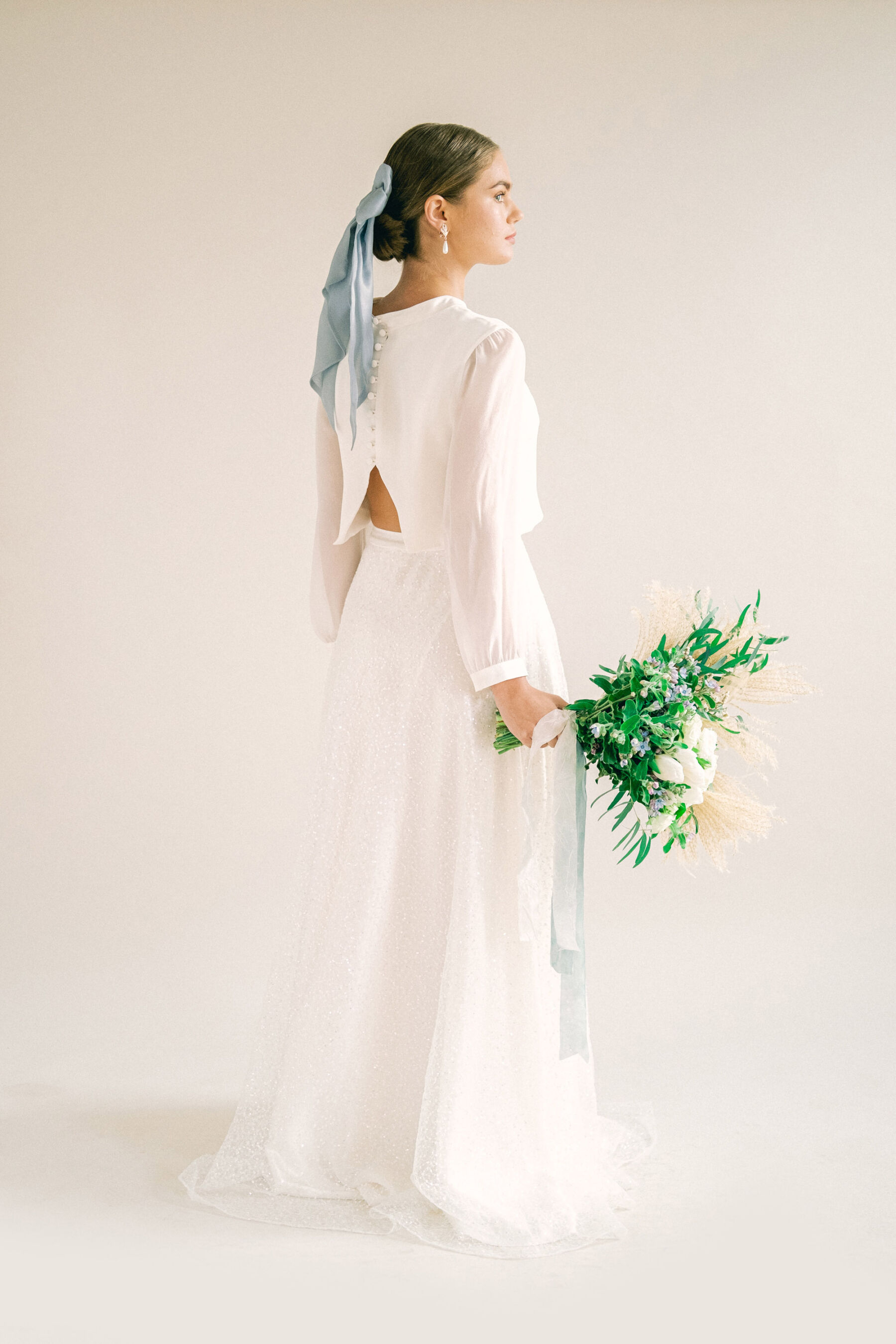 Phlox, paired with a blue silk hair bow
Dresses and accessories featured in this editorial include:
Book an Appointment with Kate Beaumont
To find out more about Kate Beaumont designs, visit kate-beaumont.co.uk, telephone 0114 275 6160 or email kate@kate-beaumont.co.uk.
Kate can also be found on Instagram @katebeaumont.
Kate's studio is located at Beehive Works, Milton Street, Sheffield, S3 7WL – you can book an appointment online here.
You can also find links to many beautiful weddings featuring brides wearing Kate Beaumont here on Love My Dress.