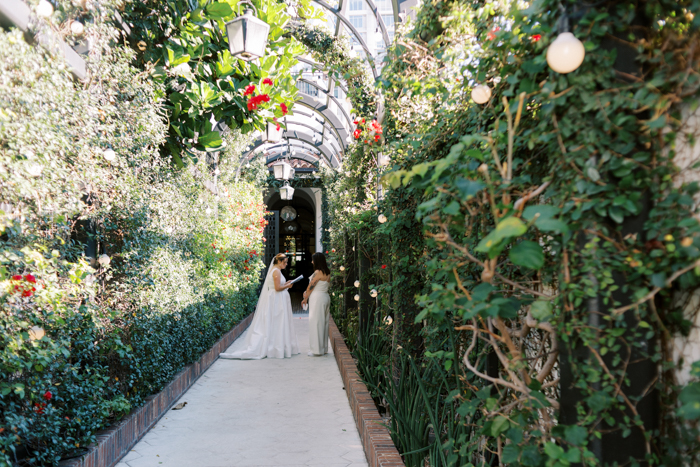 This Millwick wedding had guests coming to celebrate love, leaving with the ultimate wedding keepsake—tattoos! Carly and Kirby wanted a laid-back celebration that represented their playful kind of love. With the help of event planner Two Tree Events, they nailed every detail–from the creative wedding favors to vibrant florals by Whit Hazen. 
This couple realized that tradition and uniqueness are not mutually exclusive when it comes to weddings. You can have both. That's why they kickstarted their day with a private first look and sharing hand-written vows before walking down the aisle. They also incorporated traditional Jewish influences into their ceremony, like getting married under a chuppah and wearing pride-embroidered yarmulkes. 
After their tear-jerking "I dos," the real party began. We're talking about arcade games, a breakfast cereal bar, and a tattoo station with local artist Beth Mitzer. And lucky for us, Junebug Photographer Apollo Fotografie was there to capture the utterly cool inspo we dare you to incorporate on your big day.
The Couple:
Carly and Kirby
The Wedding:
Los Angeles, California, United States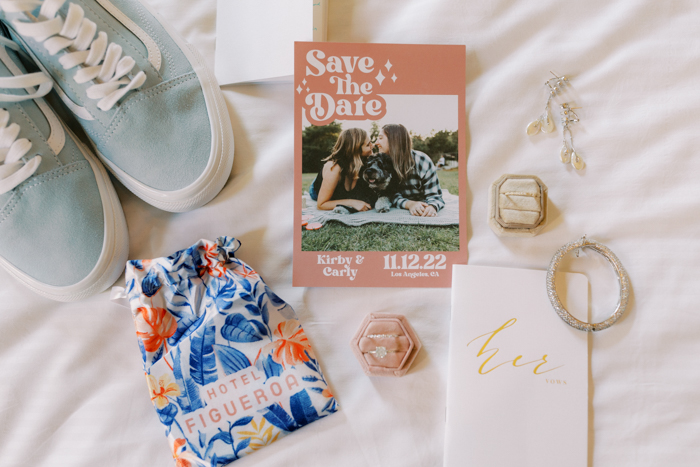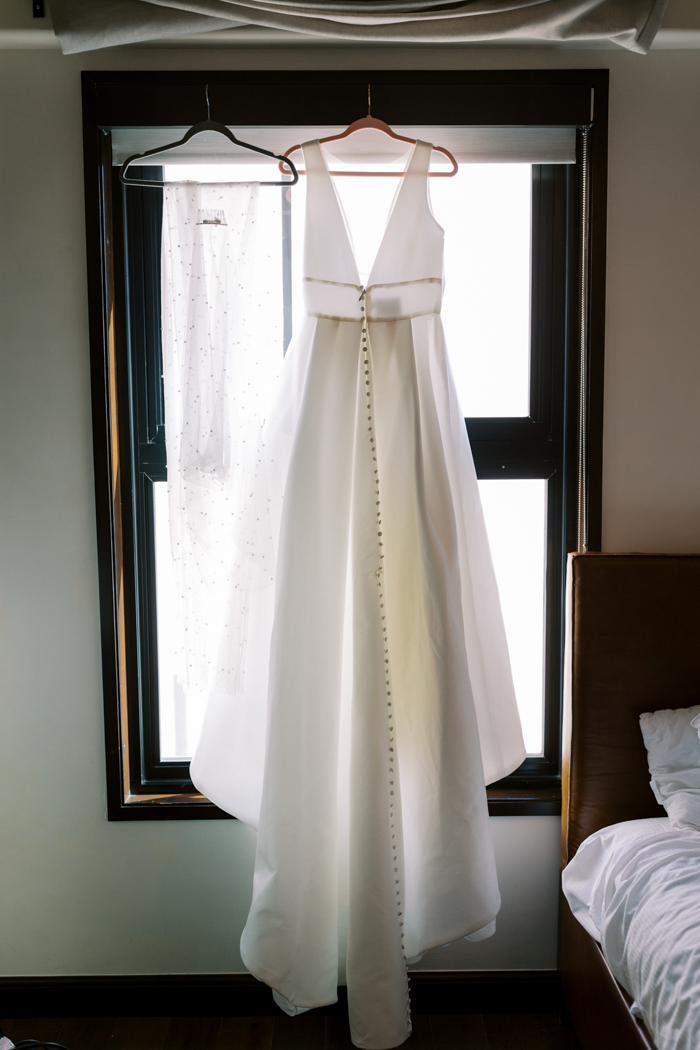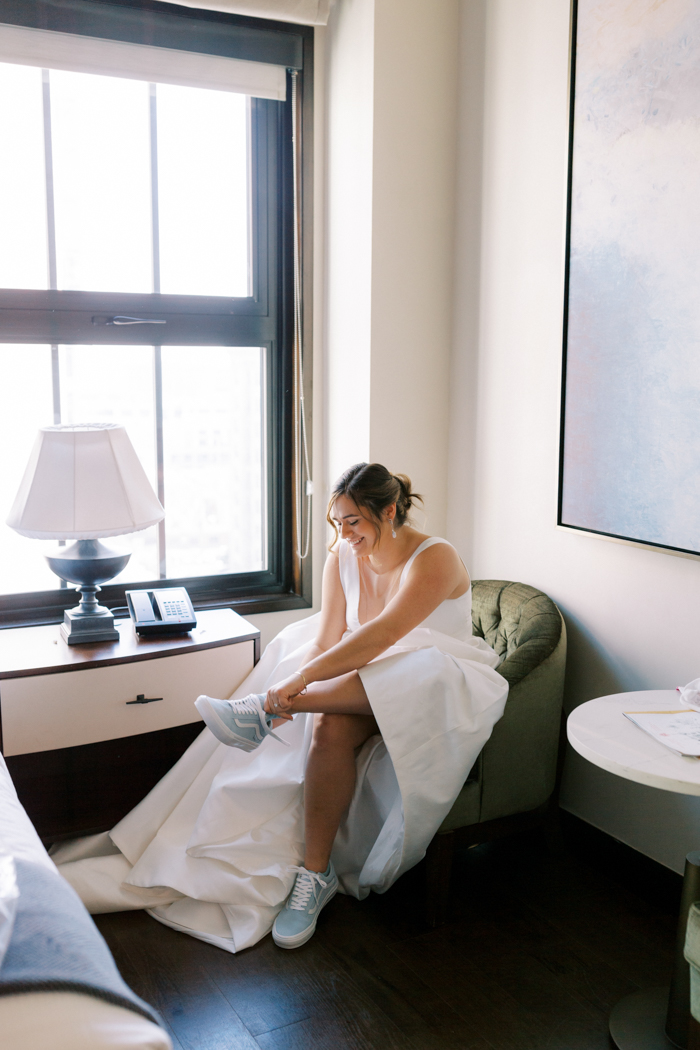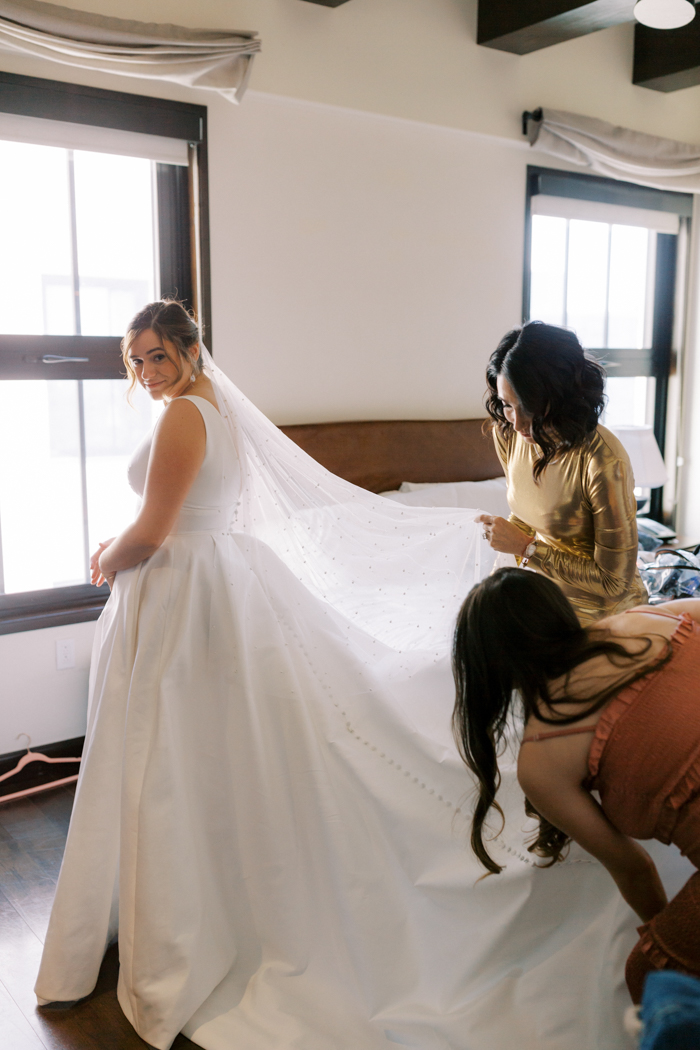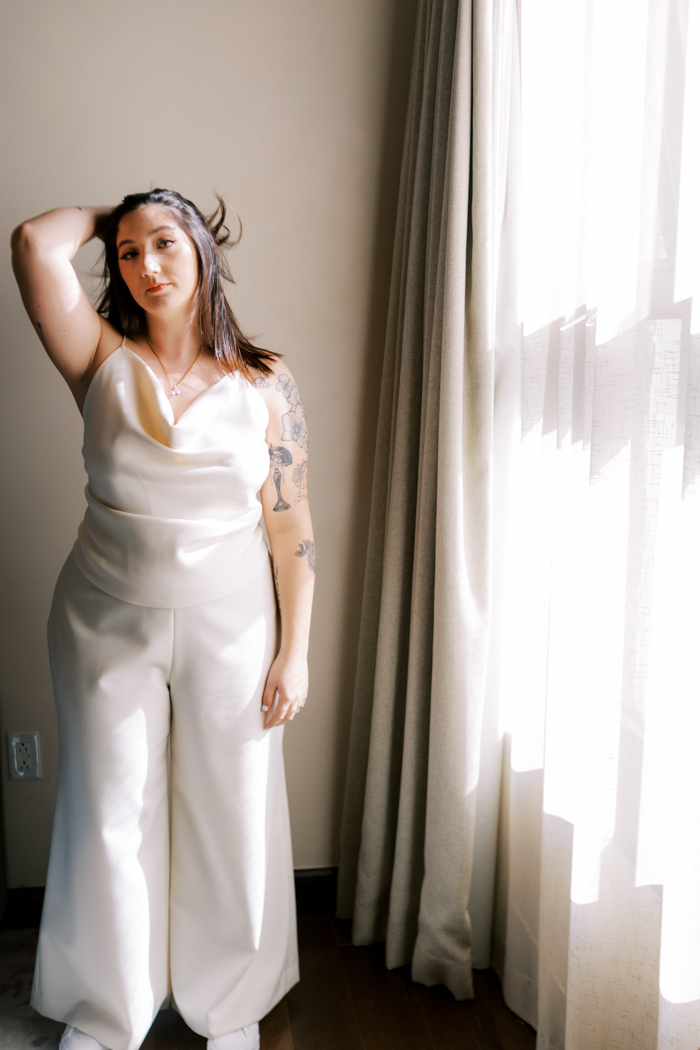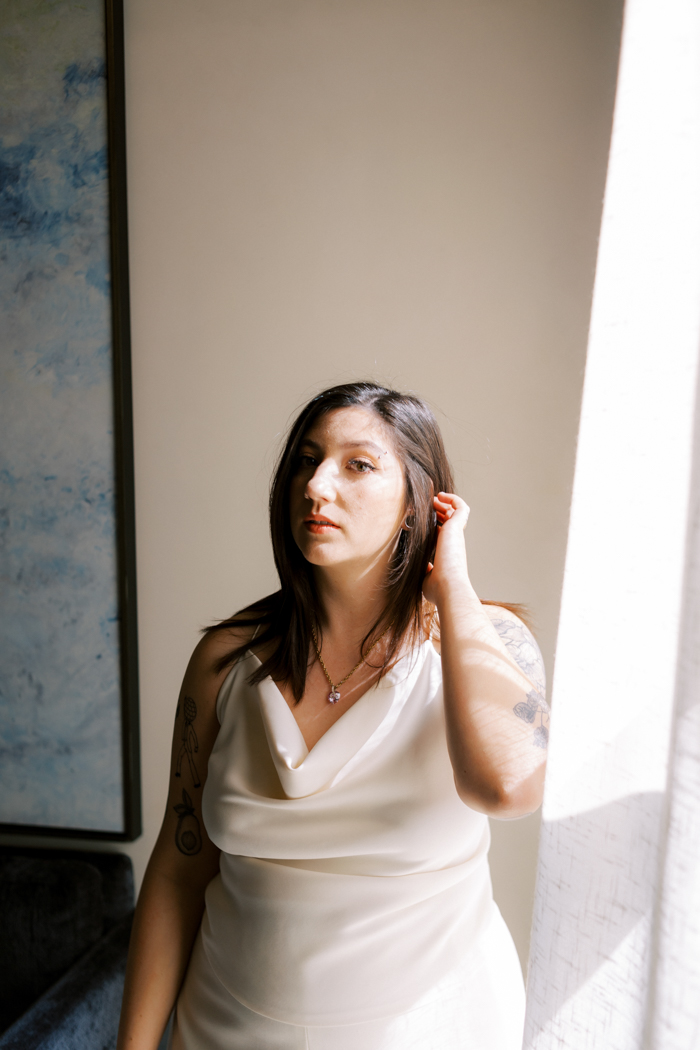 A Memorable First Look Complete With Vows At Their Millwick Wedding
Our first look was definitely the most memorable part of our Millwick wedding. We wrote the vows we said during our ceremony together, saving our individual vows for our first look, just the two of us. Reserving these vows for our first look allowed us to be fully in the moment and emotionally raw with one another. Our first look was a sacred space for us, not a spectacle. After this moment, we felt incredibly connected to one another, and it really helped us to put into perspective what the day was really about.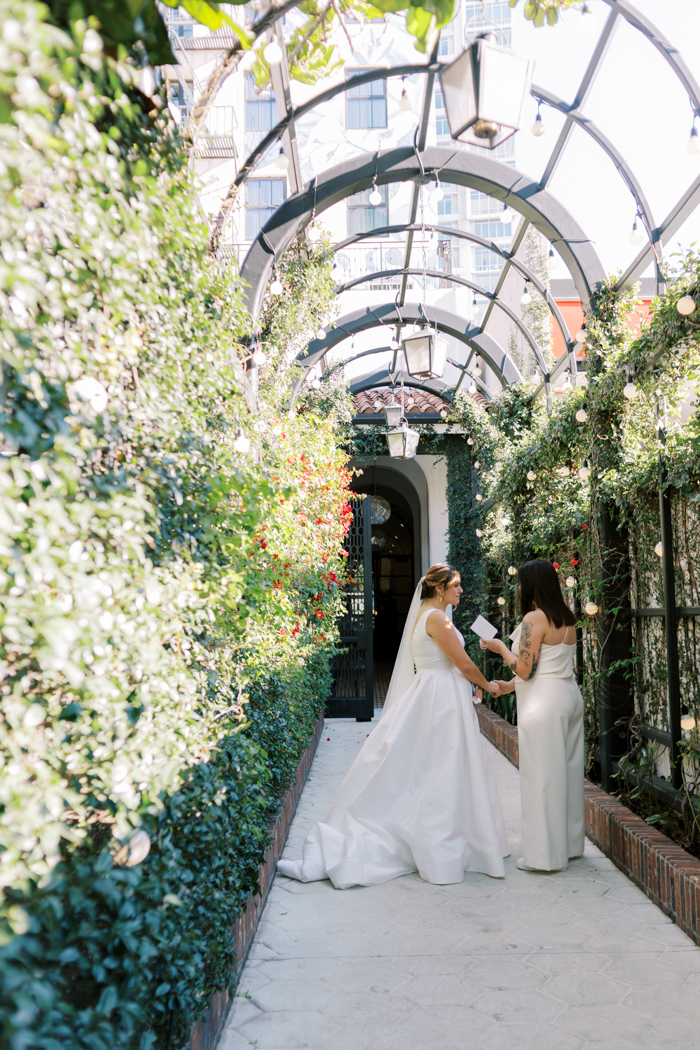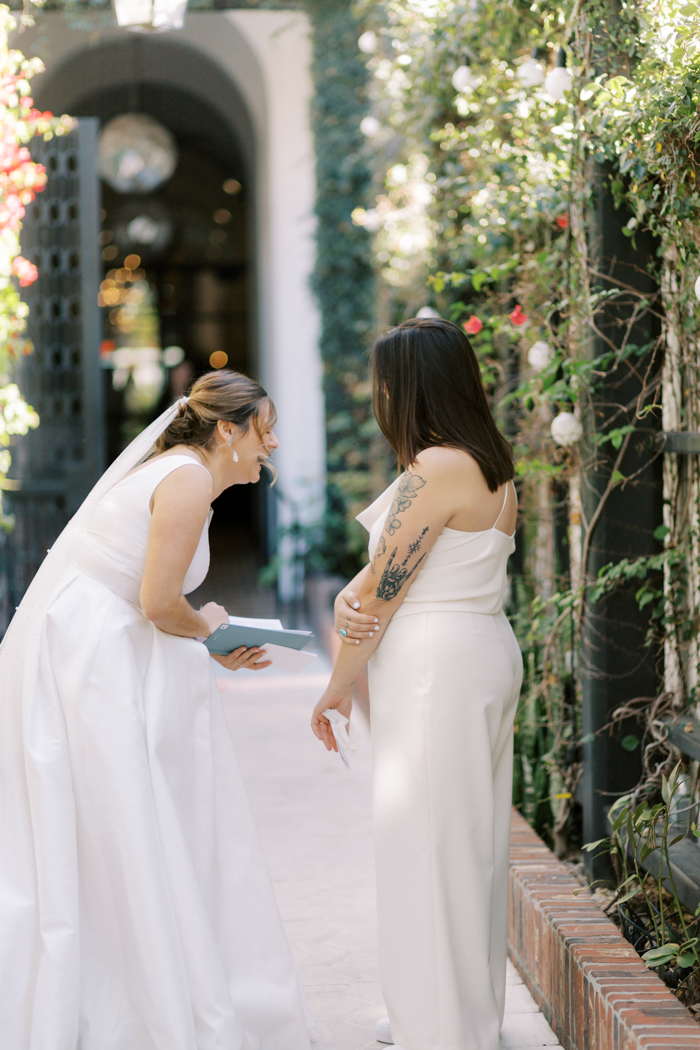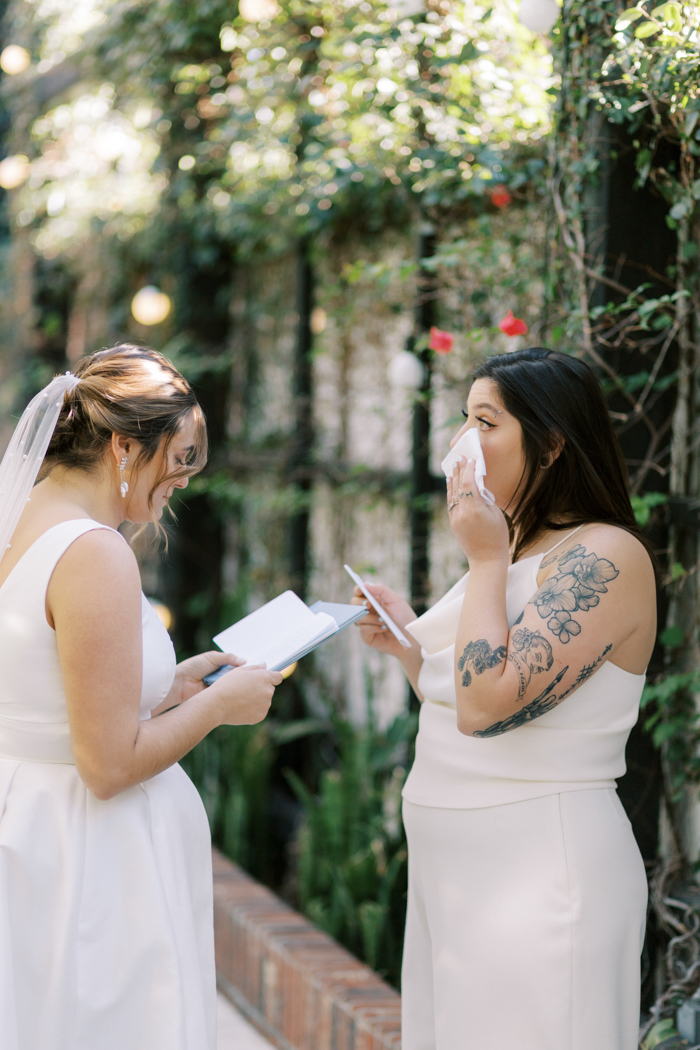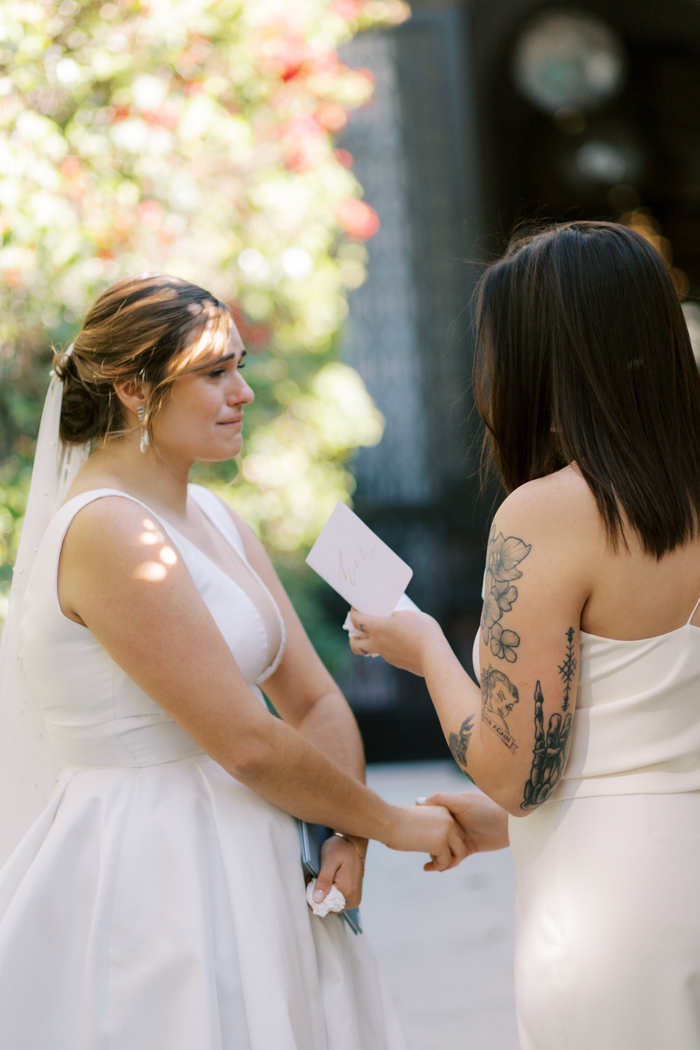 Carly and Kirby's Wedding Planning Advice
The best advice we can give is to try and remember that the single most important thing is the love you share and the life you're building. On the actual day, all the decisions, details, and stress fade away when you're able to center yourself in each other and the people who have come to support you.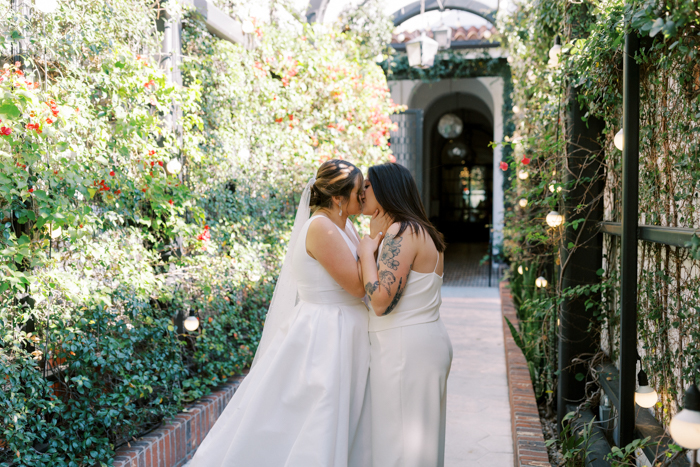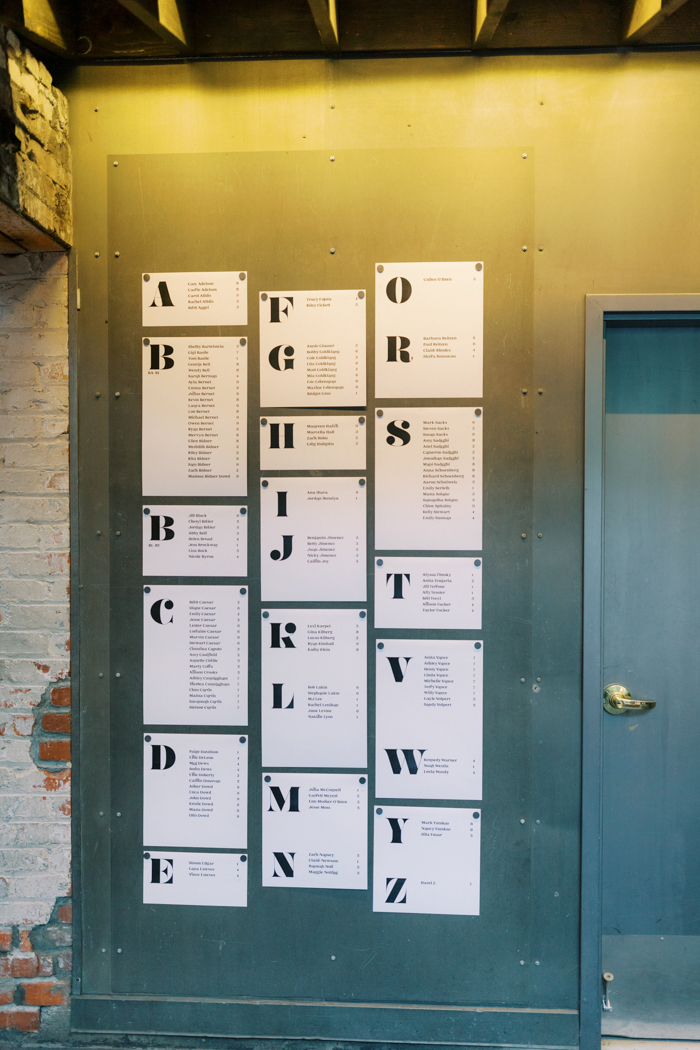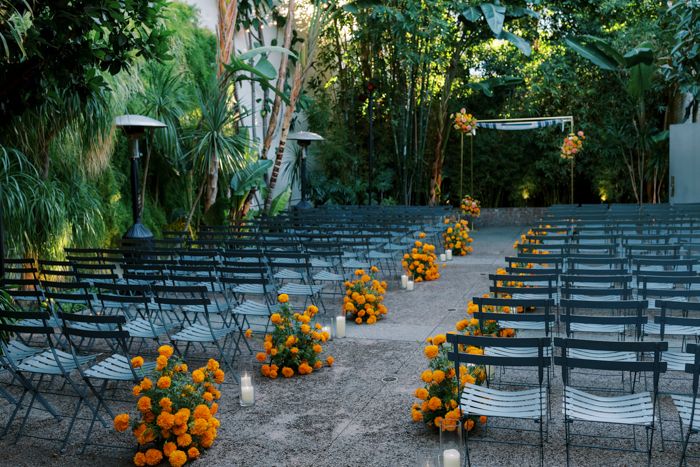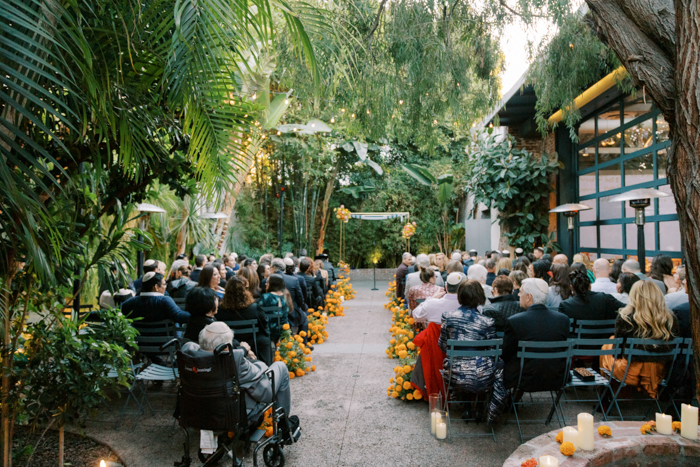 Personalizing Their Ceremony With Music, Their Dog, And Jewish Traditions 
Our ceremony was incredibly personal. The ceremony began with "More Than a Woman" by Bee Gees, and our dog kicked off the whole thing by walking himself down the aisle. We were married by a friend and mentor who has known us both since the beginning of our relationship. She wrote a beautiful ceremony for us and even incorporated the words of some of our closest friends and family. Our ceremony had elements of Jewish tradition without being a full Jewish ceremony. We were married under a chuppah, under the tallit Carly has had her entire life, and guests wore yarmulkes embroidered with pride flags. Finally, we walked back down the aisle to what we deem as a classic love song, Smash Mouth's "I'm a Believer."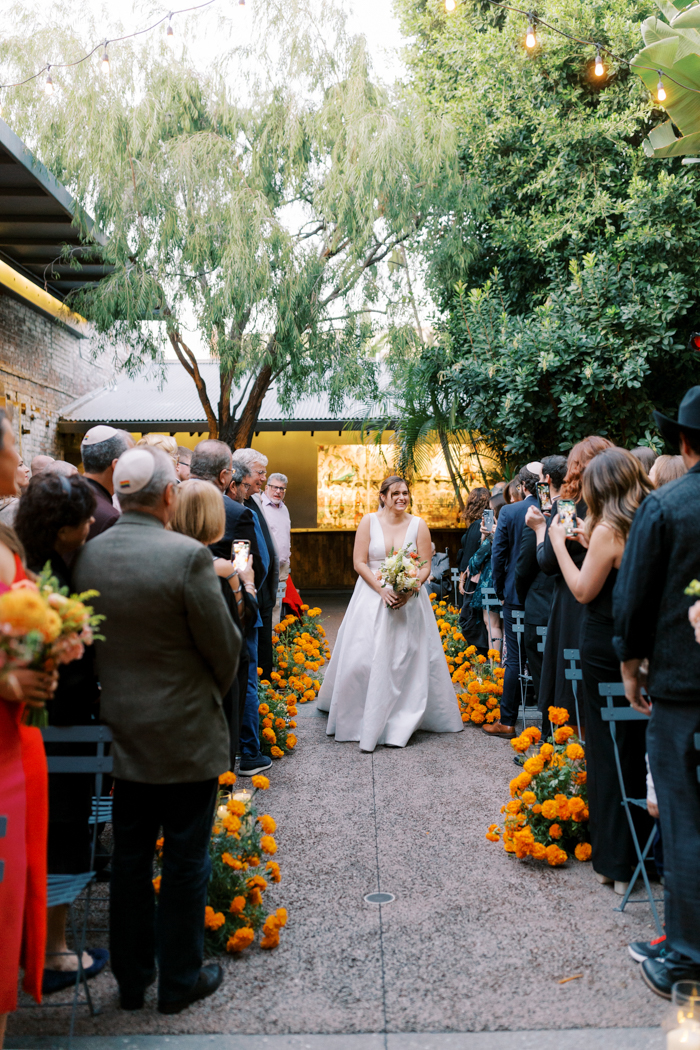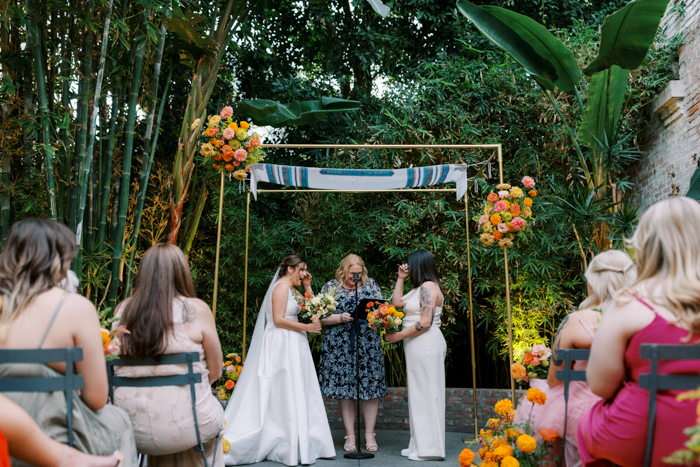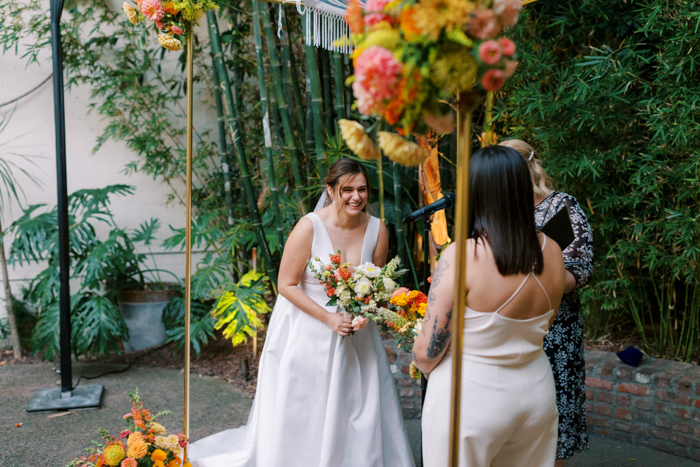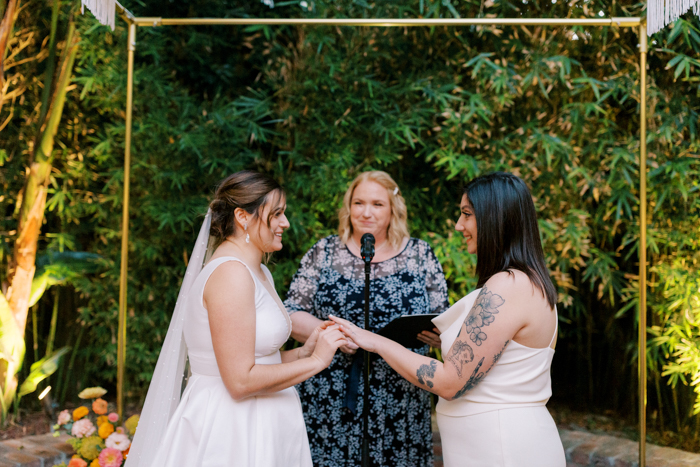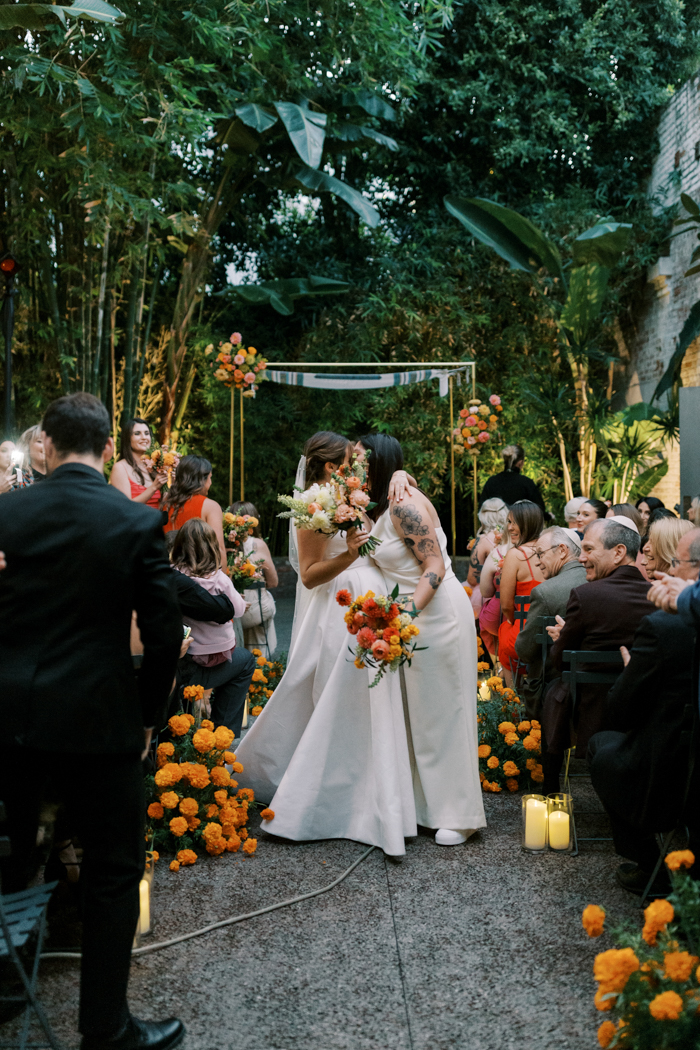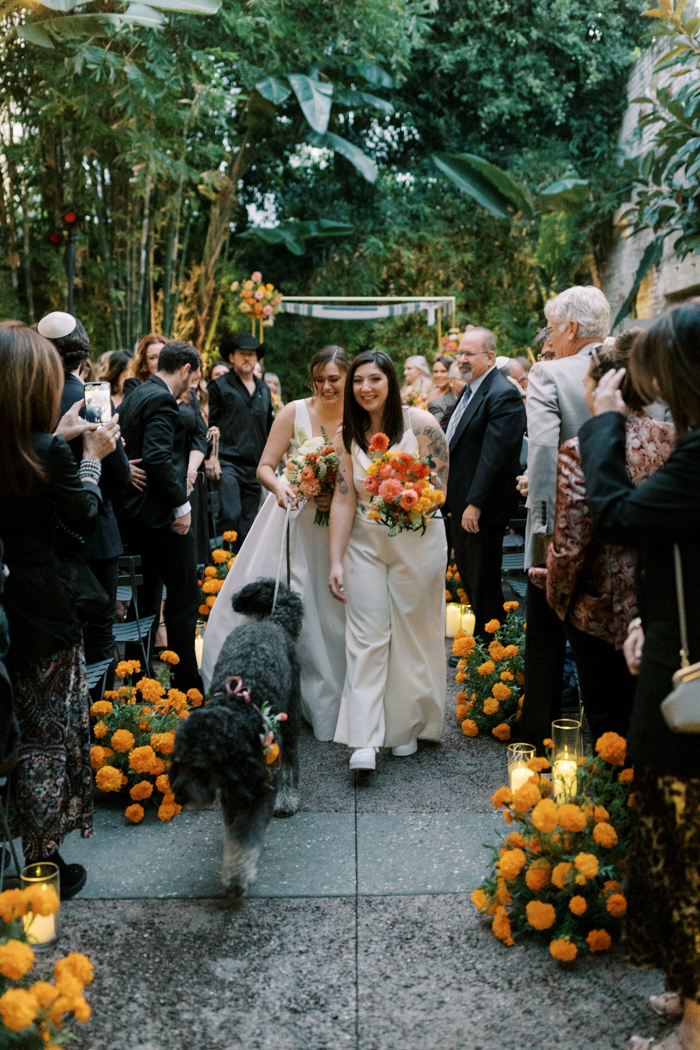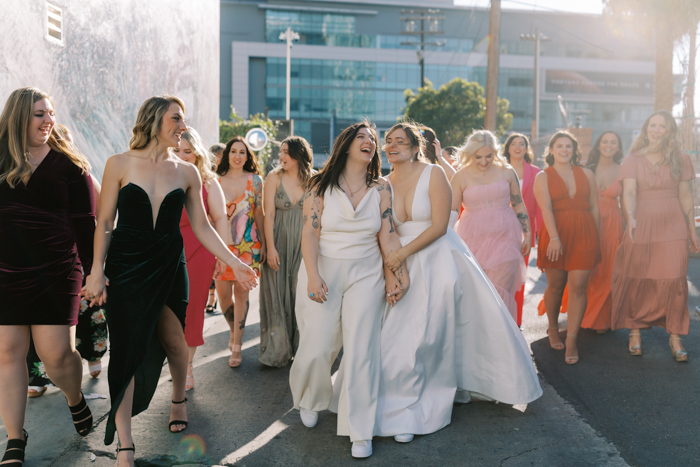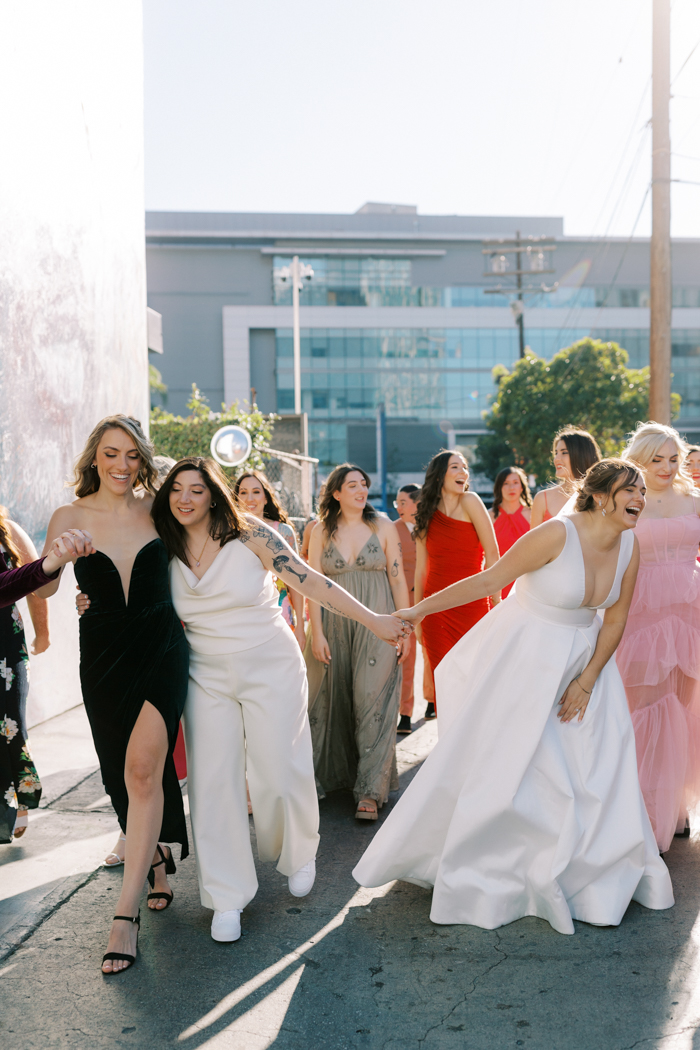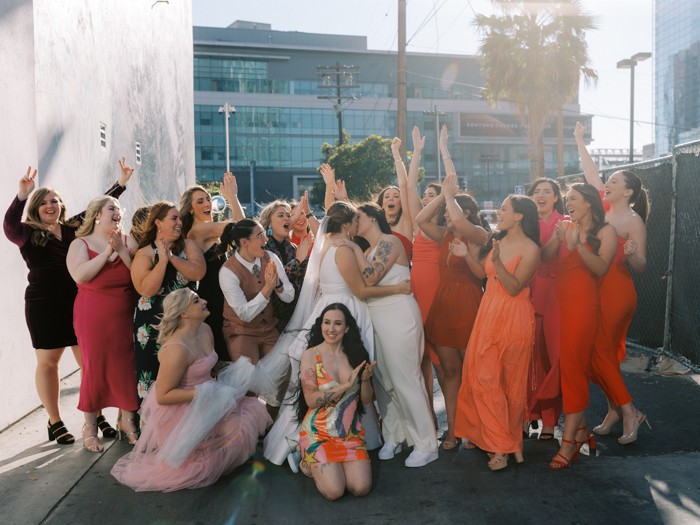 Working With Photographer
Apollo Fotografie
At Their
Millwick wedding
Despite how much we adored our photographer Apollo Fotografie, we were very uncomfortable with the idea of having our photos taken and even struggled a bit during our engagement shoot to "act natural." When our photographer suggested we photograph our first look and private vows, we were a little bit anxious. However, Liv could not have been more right about it being the best idea. Welcoming her as the photographer into our intimate moment together made us extremely comfortable with her and the camera for the rest of the day. Liv made us go from camera shy to excited to have our photos taken. Liv was also a champion at making us laugh, dealing with our large wedding party, and was super efficient with posed photos.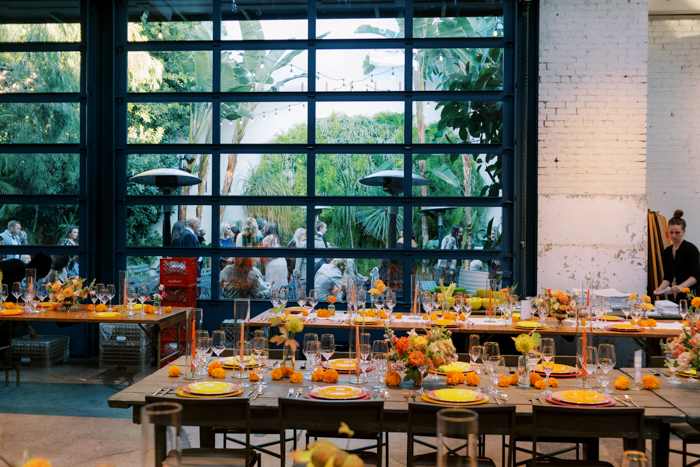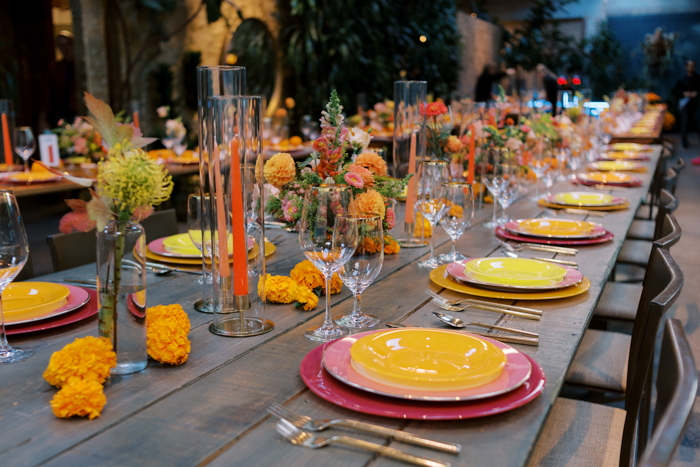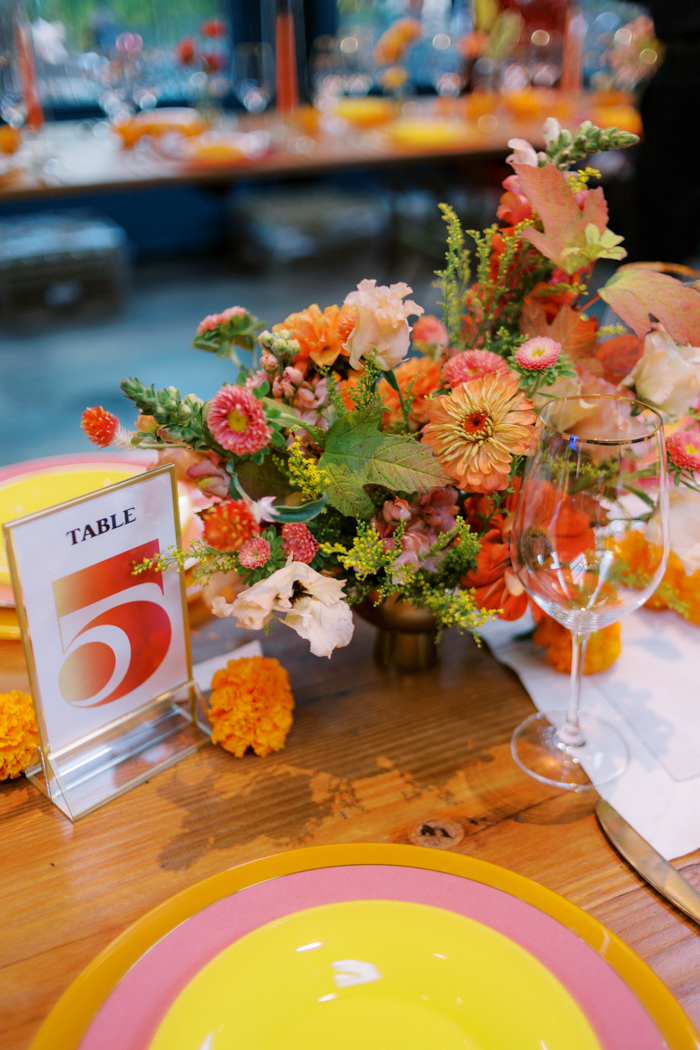 Wedding Favors That Last A Lifetime (Literally)
While we didn't give out traditional wedding favors, some guests walked away from our wedding with a new tattoo! An amazing, local tattoo artist designed a handful of flash designs in honor of our wedding and tattooed guests from the start of the cocktail hour until the end of the night. And for those who were less inclined to get a permanent tattoo, we had the cutest temporary tattoos. Of course, we walked away with matching marigolds in honor of the beautiful flowers at our ceremony.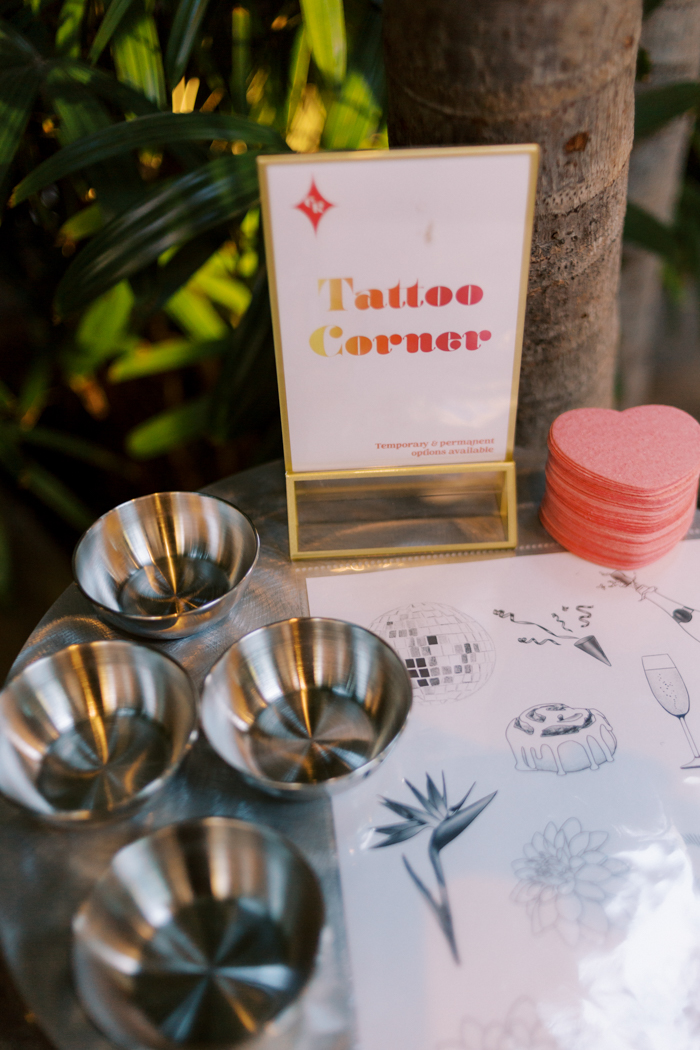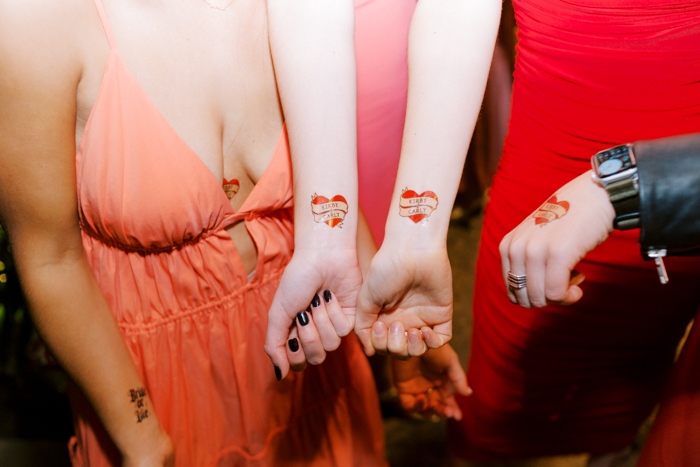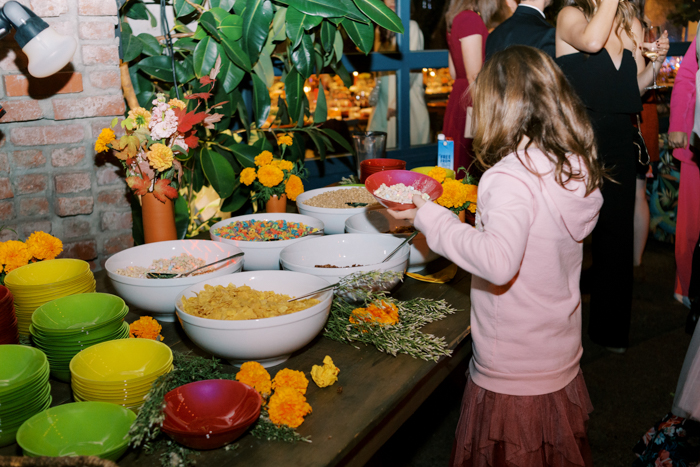 Breakfast for Dinner And A Late Night Taco Bell Snack
Our menu was breakfast for dinner. We started the cocktail hour with a cereal and milk bar followed by passed hors d'oeuvres of mini avocado toasts, french toast sticks, breakfast sandwich sliders, and hashbrowns. For dinner, guests enjoyed a breakfast buffet and different made-to-order stations, including an omelet bar and fried chicken and waffles. Finally, at the end of the party, we served late-night Taco Bell.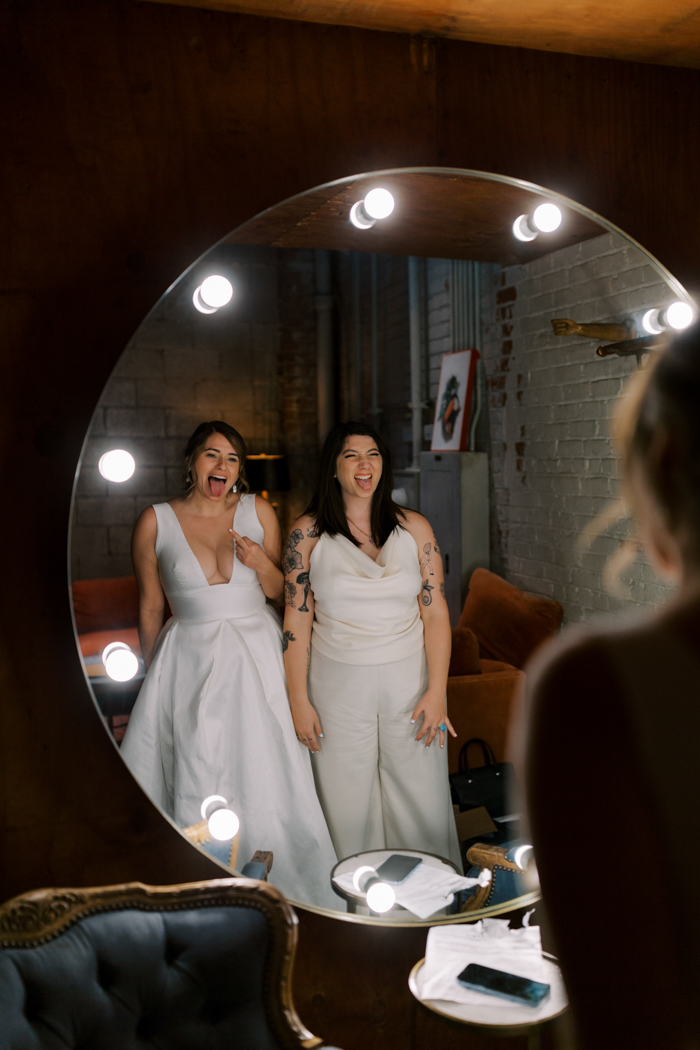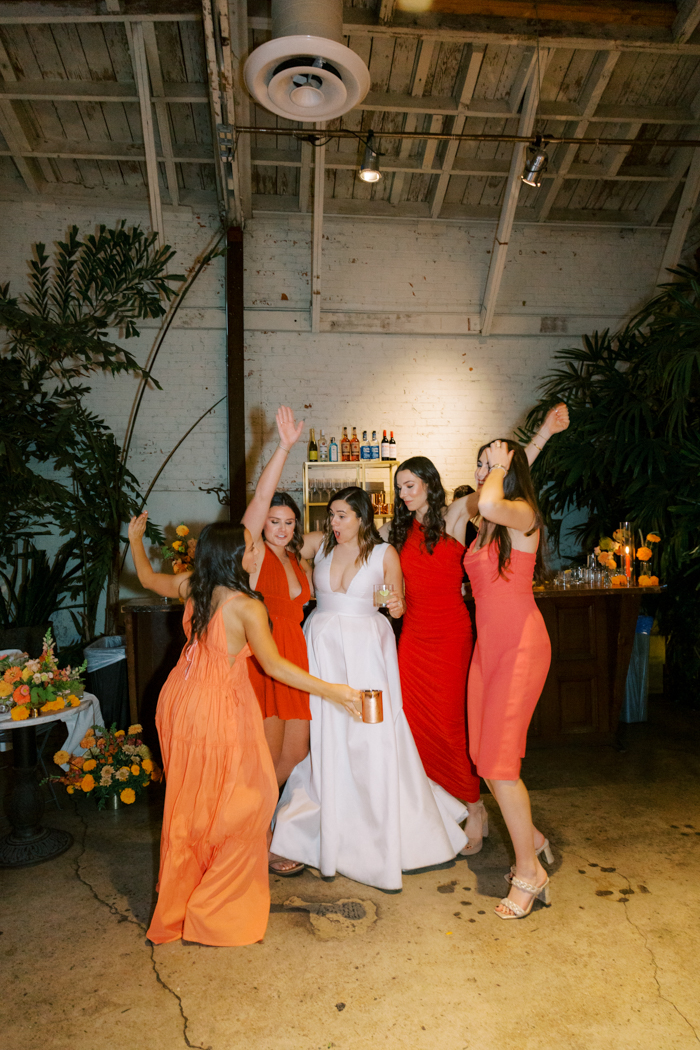 A DIY Wedding Cake Bet That Helped A Charity Dear To The Couple  
Carly made our wedding cake with no prior baking experience. Because our breakfast-for-dinner menu incorporated many treats, we had not planned to have a traditional wedding cake. When one of Carly's friends heard about this, she was shocked, and Carly made the mistake of saying, "if you want there to be cake so badly, I'll just make you one." This digressed into a bet about Carly being able to make a wedding cake for all 160 guests from scratch. The bet became quite large, and a community pool of friends and family joined in. The proceeds from the bet went to supporting Experience Camps, a non-profit organization that provides free sleep away camp for grieving children, where Carly volunteers each summer. Carly made three practice cakes before the wedding and watched several Youtube videos about baking and frosting to pull it off. Kirby was a 10/10 taste tester.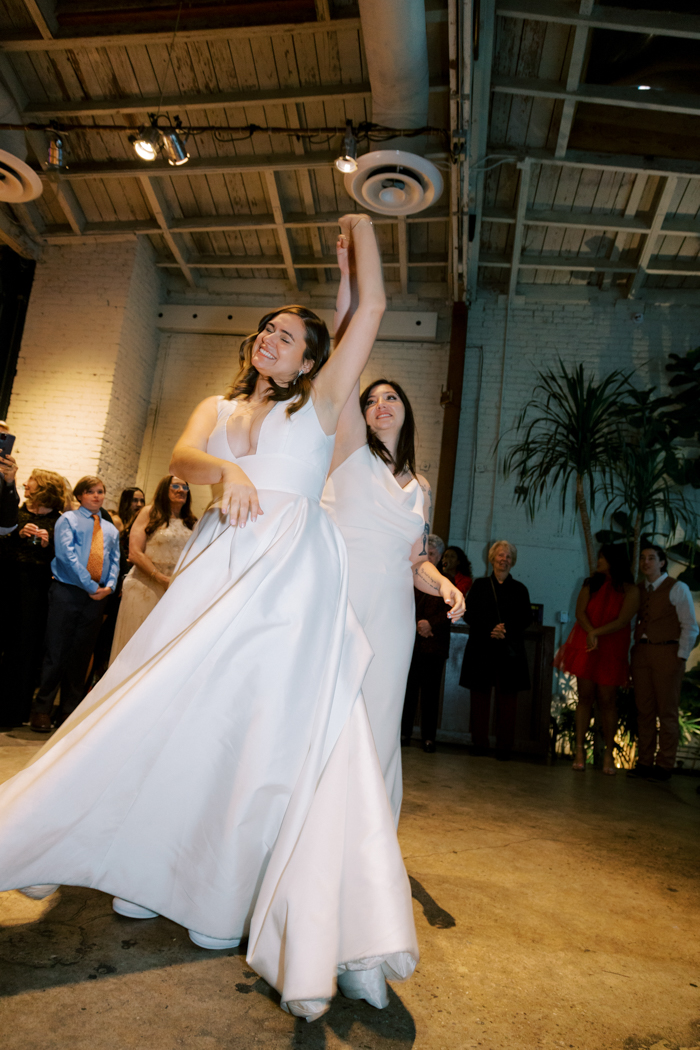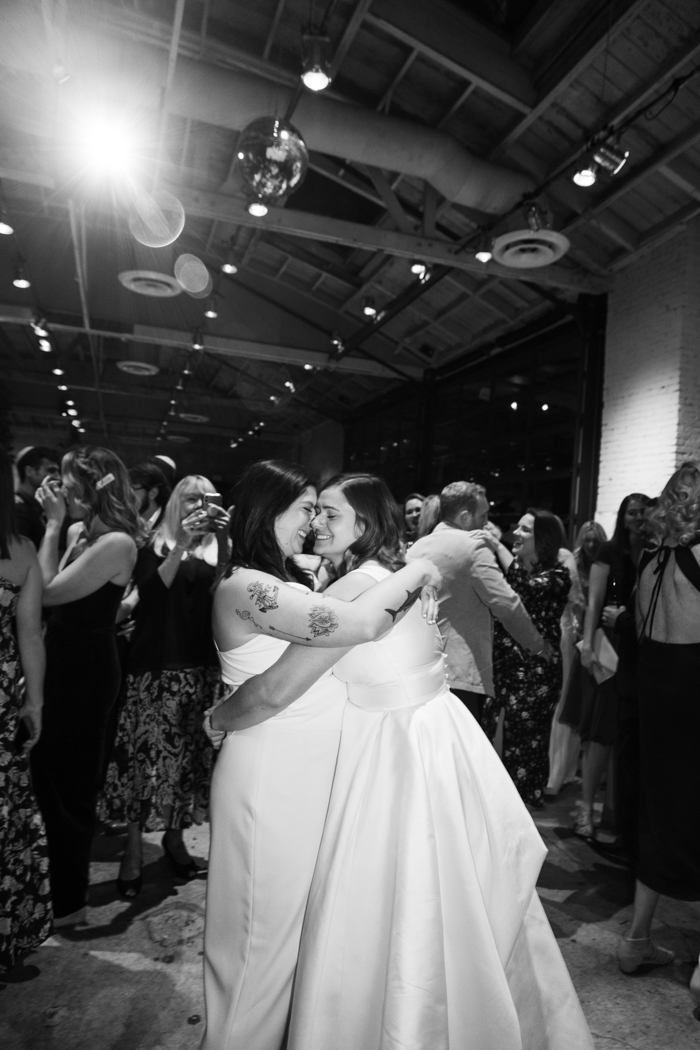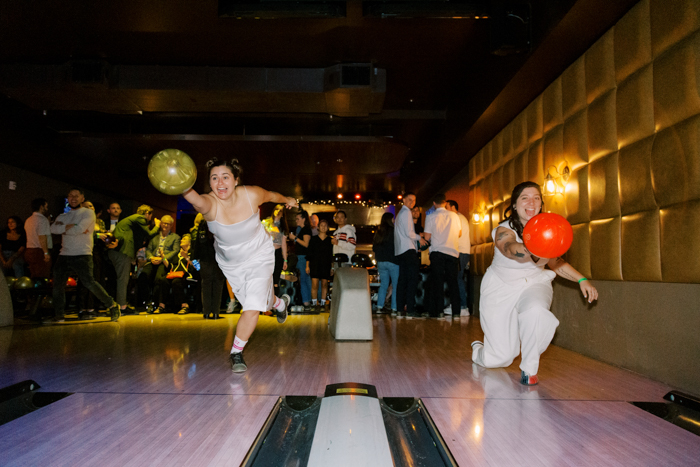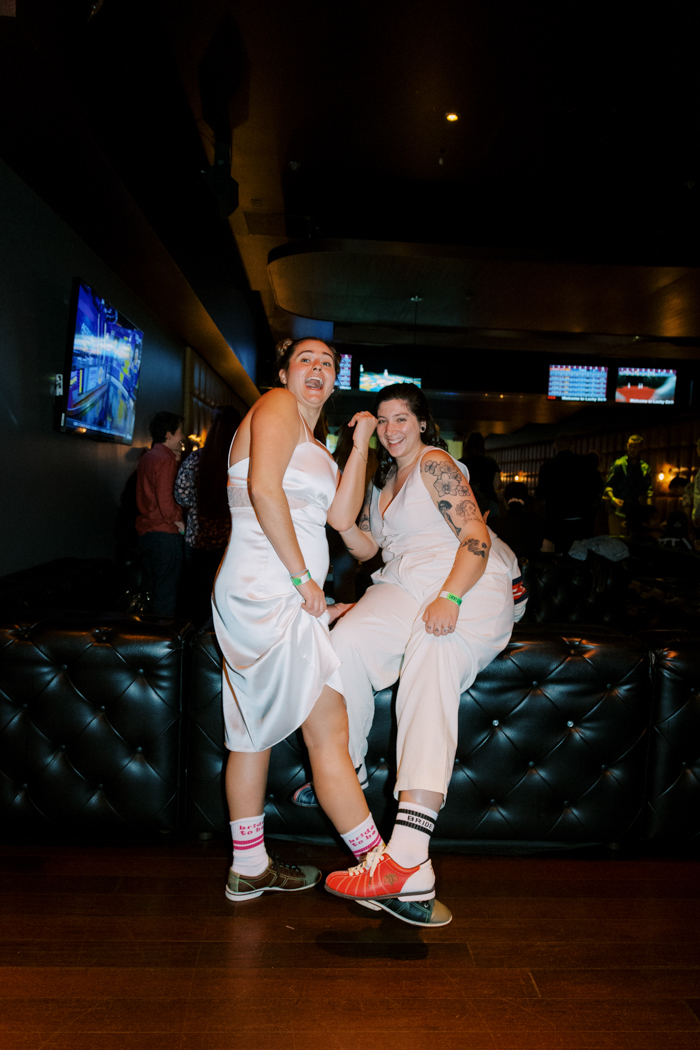 Congratulations to Carly and Kirby on their utterly cool Millwick wedding. And big thanks to Junebug photographer Apollo Fotografie for capturing all the casually cool wedding details that'll take Pinterest by storm. To see more of their work, check out their profile in our directory of top wedding vendors from around the world. 
If you're dreaming of a one-of-a-kind celebration like Carly and Kirby, odds are you're on the hunt for inspiration that's not plastered all over your Pinterest. If that's the case, kickstart your wedding planning journey by reading our how-to guide for planning a unique wedding.